Red Velvet
P
a
rt
y
Roll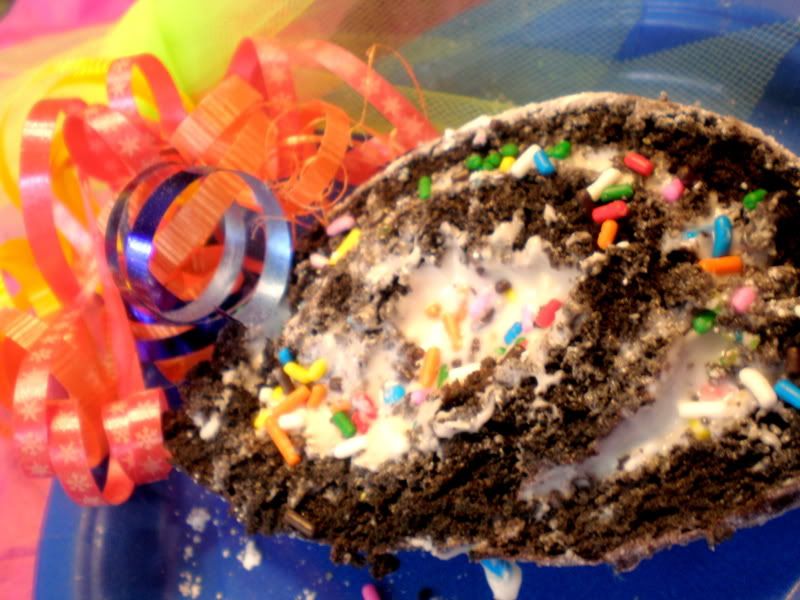 The recipe i got from Paula Deens Chocolate Celebration magazine, which is an amazing magazine! The one thing i didnt realize, however, is that because it is different than a normal red velvet cake, the color doesnt turn out the same. Usually this would have been a gorgeous purple velvet cake, which is what i had visioned, howver then it quickly became just plain old brown.. blah. It was still very festive though with colorful sprinkles in the icing layers, and on top.
Paula

Deen

Red

Velvet

Cake

Roll

Recipe:
5 large eggs, separated
1/2 cup sugar, divided
2 tablespoons buttermilk
1 teaspoon distilled white vinegar
1 (1 ounce) bottle red food coloring
1/2 cup cake flour
1/3 cup unsweetned cocoa powder
1 teaspoon baking soda
1/4 teaspoon salt
1/4 cup confectioners' sugar
1. Preheat oven to 350*. Coat a 15 by 10 by 1 inch jelly roll pan with cooking spray. Set aside.
2. Beat egg yolks at medium speed with an electric mixer until thick and pale. Add 1/2 cup sugar, beating well. Beat in buttermilk, vinegar, and food coloring.
3. In small bowl, combine flour, cocoa, baking soda, and salt; sift. Gradually add to egg mixture, beating until combined.
4. In a medium bowl, beat egg whites at medium-high speed with an electric mixer until foamy. Add 1/4 cup sugar, 1 tablespoon at a time, beating until stiff peak forms.
Fold eggs into chocolate mixture.
5. Dpread batter into prepared pan and bake for 10-12 min. or until cake springs back when lightly touched in center.
6. Sift two tablespoons confectioners sugar in a 15 by 10 inch rectangle on a cloth towel. Immediately loosen cake from sides of pan and turn out onto prepared towel. Peel off wax paper. Sift remaining powdered sugar over cake.
Starting at narrow end, roll up cake and towel together; place cake seam side down on a wire rack. Cool cake completly.
7. Gently unroll cake and spread with cream cheese white chocolate filling.
Reroll cake without towel; place seam side down on a serving platter. Dust cake with confectioners sugar if desired. To serve, cut into 3/4 inch slices. You can garnish with chocolate sauce, or fresh mint leaves.
Cream
Cheese
White
Chocolate
Filling
(makes about 3 cups)
1 (8 oz.) package cream cheese (softened)
1/4 cup butter (softened)
1 teaspoon vanilla extract
4 cups confectioners sugar
1 cup coarsely chopped white-chocolate morsels
about 1/2 cup sprinkles
(I also added about 1/3-1/2 cup melted white chocolate chips)
In a large bowl, beat cream cheese and butter at medium speed until creamy. Beat in vanilla. Gradually add in confectioners sugar until smooth. Here I added the melted white chocolate. Then when its cool, add white chocolate morsels, and sprinkles.